www.vodafone.co.uk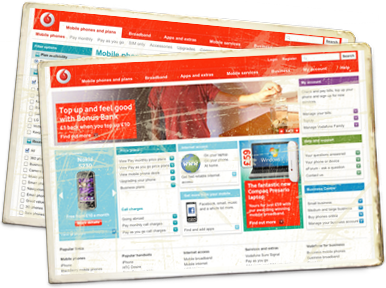 June 2008
Client
Vodafone
Responsibilities
visual design, prototype development
Description
I was hired by Sapient to join their team redesigning www.vodafone.co.uk and the then separate online shop offering.
Although given the choice to come in as an IA I opted to work on the visual design team, supporting both the shop side and the main co.uk side. As well as being able to contribute as a design for both areas, this gave me the responsibility of being a sanity check between the two streams, keeping them on track with all visual design developments.
It was a chance for me to learn a different technical approach as all the wireframing and visual design was done in Illustrator. The greatest benefit to this method is that each 'module' can be created independently then inserted in to templates in the same way websites do. This was also useful in terms of time saving, because the wireframe files were the same format as the visual design, so assets could transfer across to save reproduction.
Another role I took on was to build a prototype of the new IA for testing purposes. The primary purpose of this was to test the new site hierarchy so I had to make sure the user was able to navigate around the site (built from sliced screen shots). I built it using php includes which meant we were able to change the structure and content quickly on the fly when needed.