Gooey – Concept UI for Windows Mobile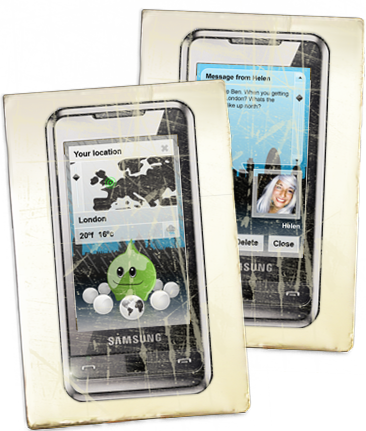 Oct 2008
Client
Samsung/Microsoft
Responsibilities
art direction, visual design, interaction design, Silverlight asset creation
Description
Microsoft wanted to showcase Silverlight on a mobile platform. The solution was to create an animated, interactive character which could interpret the operation system functions of the Samsung Omnia.
I worked on this as a solo project, for Splendid, over two weeks, working with a developer from Samsung, plus technical support from the in-house Microsoft Silverlight team.
I spent the first few days brainstorming and storyboarding the project, and brought in some illustrators to create the character. I then spent a week in Seattle at Microsoft taking part in a workshop with other small Silverlight teams where I finished the storyboarding and investigated technical solutions to our requirements. The final week was spent producing the visual interface which I created using Microsoft Expression.
The final interface was produced as a demo for PDC2008 in LA.