BEV Instrument Cluster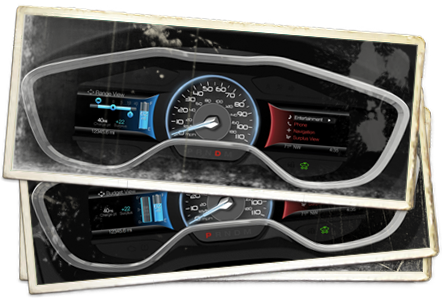 Feb 2012
Client
Ford
Responsibilities
Interaction design, visual design
Description
I picked up this project mid-way through production – tasked with fixing problem areas of the Ford's new Battery Electric Vehicle UI. This comprises of two digital displays either side of a physical speedometer. The right hand side contains information supporting the vehicle's 'centre stack', known as MyFord Touch. The left hand screen contains information relating to the performance of the vehicle. My primary duty was to produce the screens appearing on this screen.
As Ford's first 'BEV' we explored new areas of automotive interface design, solving issues such as 'range anxiety'. The interface also has a customisation feature so the content is laid out such that the driver can choose their own combination of gauges and read outs. The content displayed on either screen is controlled using the five-way controllers on the steering wheel.
Alongside the interaction problems I also refined the visual design which was based on the visual styling of an older instrument cluster. The colour palette was based on the representation of electric power as blue with a small selection of supporting colours representing states of power.