Training & Sales App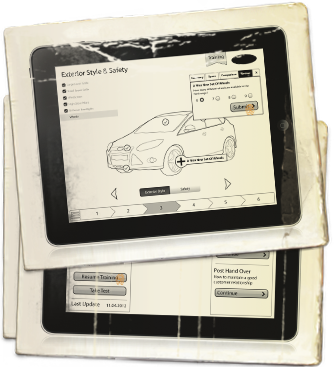 Nov 2011
Client
Ford
Responsibilities
Interaction design
Description
Imagination pitched to Ford to produce a set of tablet based interfaces to support their growing Asian market. The brief was to create an e-learning platform to inform, inspire and test sales staff knowledge. Along side this was a sales tool to support the staff and provide rich content about the products. The final interface was to assist the hand-over process post-purchase.
We had a week to put together the presentation.
My solution, taking in factors such as budget, time and on-site infrastructure, was to merge the three interfaces in to a single product, built in HTML5, to work across multiple platforms.
Using a single log in and homepage the staff would be able to access which ever option they required. The different options were designed around a common template and assets so that once the user had completed their training they would immediately be familiar with the sales tool.
For presentation I created three user journeys, one for each core use-case.