Infotainment System & Configurator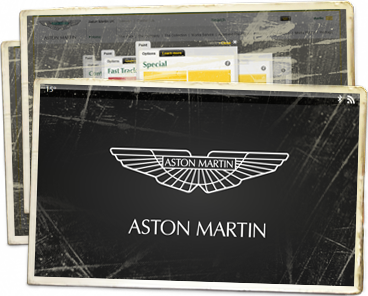 Mar 2008
Client
Aston Martin/Microsoft
Responsibilities
visual design, Silverlight asset creation
Description
I joined the team at Splendid to work on this POC, which was produced in partnership with Microsoft.
The brief was to produce a website, a stand alone touchscreen application and in-car system for Aston Martin using Silverlight. The website was to by an engaging marketing tool which would drive sales and streamline the buying process through the use of a 3D car configurator. The second objective of the site was to provide a community area and personalised content for new car owners.
In addition to the configurator we designed a touchscreen application used in the car show room. This system pulled the content created by the potential owner and displayed it on a tablet for the sales staff to use when specing out the car details.
The final part of the project was the in-car system. This interface is was displayed on a small screen in the dash and provided a central hub for all the car's systems including the cd player, radio, environmental controls, diagnostics and a drive recording system.
My role was to support the lead designer in creating the finished artwork. Working to an extremely tight deadline we then translated all the interfaces in to Sliverlight using Blend, and created animated sequences which were handed over to the development team.
The finished piece was then integrated in to an actual car for demo purposes and was used for a keynote presentation at Mix 08, first in Las Vegas, then across the globe.